Tastes that Will Melt Your Heart in the Heart of Thornhill
Come for the food, stay for the atmosphere (and the food). Newly renovated Dejavu Mediterranean cuisine is a restaurant that serves up classic, home style pan-Mediterranean meals that are to die for. In addition to massive portions, amazing tastes and friendly staff, their Thornhill location is literally a step away from everywhere. Regular guests rave about the delicious selection of wonderfully prepared foods available. For food prepared by a world class chef with over 20 years' experience in the business, but at affordable prices, you know where to go. Using only the finest ingredients, Dejavu promises to leave your taste buds tingling and your stomach satisfied. Feel your mouth water at some examples of the yummy dishes on the menu: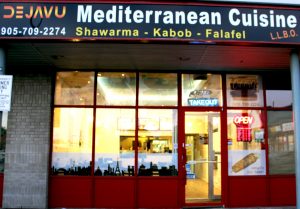 Shawarma, Falafel, Kebab and more!
A delicious set of appetizers beginning with an astounding selection of soups: lentil, creamy mushroom, borsch chilly soup and lamb soup. Delicious! Pair them up with any of the four salads for an appetizing beginning to your dining experience. Other appetizers include calamari, a falafel plate, shawarma, chicken wings and a tantalizing middle-east combo. If you prefer cold selections, try the scrumptious baba-ghanoush, the hummus, coleslaw, mushroom salad or fried eggplant salad. Is your mouth watering yet?
For those who want to indulge themselves in a dining experience in a bun, the selection of sandwiches with a wide variety of meats and fish is a great idea. Alternatively, pair your meat selection with laffa, rice, pita or fries. For the vegetarians in the crowd, falafel, steamed vegetables and a variety of vegetarian appetizers are available.
Dejavu's children's menu includes one of the following: chicken fingers, chicken schnitzel or a mini shawarma dinner, all served with fries or rice and a choice of pop.
And you mustn't forget to try the Greek or chilli cheese fries! They're a different spin on the classic Canadian poutine that is sure to delight fry lovers and Mediterranean connoisseurs alike.
Alcohol fans will be delighted at the beer selection, also available on the menu are wine, brandy, vodka and whiskey.
Shawarma & Dinner Take-Out Thornhill
Take out and dine in are both available. Try it, we promise you won't be disappointed. Come visit Dejavu in Thornhill, we're located at 1470 Centre St #7. To make reservations or place an order please call (905) 709-2274. Other inquiries can be directed towards our email, please don't hesitate to ask about anything. Email us at: info@dejavucuisine.com. Please come visit us in restaurant to try our amazing selection of delicious meals. We're looking forward to seeing you soon! Preview our restaurant menu.